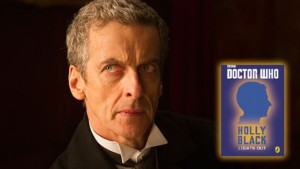 The Doctor Who story I wrote is out tomorrow!!! It takes place between the first and second episode of the new season and includes monsters, coffee, spaceships and my take on Peter Capaldi's Twelfth Doctor. It's currently available in e-format and here's where you can get it:
"Lights Out!" on iTunes
"Lights Out!" for Nook
"Lights Out!" for Kindle
"Lights Out!" in the UK
If you want to listen to me talk about it, here I am nattering on in an article in The Guardian and here's a video of me looking very odd and gesturing wildly (my hair is silvery because I was swimming in the sea for a week and puffy for reasons beyond my ken — why didn't anyone tell me I looked like that?).
I hope that all you Doctor Who fans think I did an okay job!