Coldtown Paperback Out 8/12!
by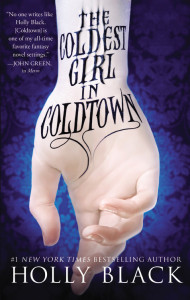 The Coldtown paperback is coming out 8/12, which if you live where I live, means right now! It's super pretty and has two fancy new blurbs on it.
This one on the front:
"No one writes like Holly Black. [Coldtown] is one of my all-time favorite fantasy novel settings." – John Green
…and this one on the back:
"Written beautifully, with a really rich setting and complex characters." – Veronica Roth
When I saw these, I went immediately to my publicist.
Holly: Uh, guys, I really appreciate you guys trying to make the book sell and all, but someone is going to notice that you MADE UP A BUNCH OF FANCY BLURBS.
Publicist (with vast, though beleaguered patience): Those blurbs are real, Holly.
And it turns out that they are really real! Thank you, John and Veronica!
Anyway, if you'd like to pick up a copy, there are links to places selling it on the Coldtown page of my site. So, if you've been waiting for paperback to try out The Coldest Girl in Coldtown, now is your time to strike!