Official MFT & Coldtown Shirts Now Available
by
I am really excited to share this with you!
For a long time, I've been thinking about doing some official merchandise because I love art and also things. And then Worldbuilders came to me and wanted to partner on the very thing I'd been dreaming of doing!
Here's the first wave of merchandise — shirts! In time for the holidays! One has a quote from the Modern Faerie Tale series, designed by the fabulous Kathleen Jennings. The second is of the Dead Last Rest Stop from The Coldest Girl in Coldtown, designed by Tyson Smith of Maiden Voyage Clothing.
I love both a whole lot.
Here's a link to the STORE. There's also one in the menu bar, under "Merchandise."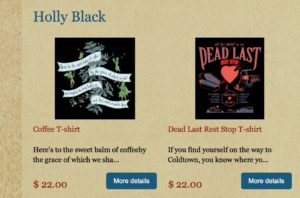 I am currently in the process of commissioning some more merchandise, so if there's something you really wish I had in the store, please let me know!
(You will notice that on the same page are signed books of mine. Those were donated separately to Worldbuilders and no portion of any of those sales goes to me.)